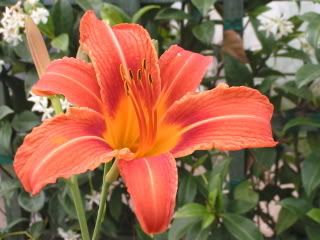 Not a whole lot of news, really. I've been playing with the various settings on my camera to get the best pictures possible. No real rain, so I had to water with the hose, I was really hoping for some too. Bummer. Next week we're going to have highs in the mid 90's. I'm hoping to get some peas, but with weather like that, I'll have to get a fan on them or something. HA!
So in the battle royale of the squash and the musk melons, the melons are starting to spread, and even took ahold of the squash. I had to unwrap it. Though the squash was the first to produce female blossom. Pictures:
1. The squash and the muskmelons going head to head. To give this picture a little prespective, the squash (Left) is not up to my upper thigh. I'm trying to train the melons more away from the squash. I do have a 'fence' on the other side of the squash, or else I'd never be able to get to the peas or the zucchini.
2. The female squash! I've got two males as well. I'm going to go at them with a painbrush tomorrow, to ensure pollination.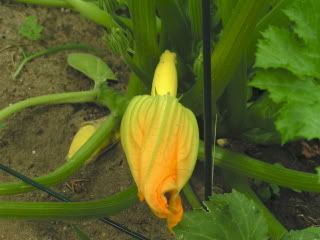 We've gotten one strawberry as well. Though as we were taking this picture we notice that we've another blossom, and about half a dozen buds. So I'll have a little sweet as I'm wandering through the garden. (Though Jim has dibs on most of the strawberries, these were his idea. These and the hot peppers.) Funny, he gets to pick them, I get to grow them.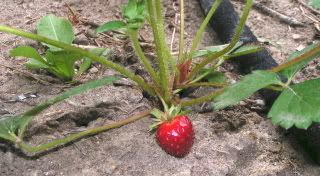 And at long last! My ditch lily has bloomed! (Still in the container though, it will go nowhere near my other lillies.) Pretty as hell, too bad I'll be transplanting it over by the road. I guess if I had a flower to pick, it would be the lily. I adore them. My oriental lily is going to open within the next few days, I await with my nose and camera. Picture of the ditch lily: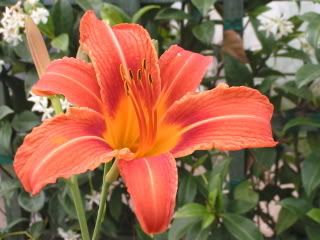 And last but not least, my star jasmine, up close. I looked around at Lowe's. No other kinds, I'm going to check out God's Green Earth. Otherwise I'll have to go mail order I fear. I think I have Jim convinced since I didn't kill this 50.00 plant, I could get another. Let's hope so. If nothing else I'll say the jasmine has stole my heart with her sweet fragrance.