I'm sure everyone has them.
Deadbeat beds.
I dug this bed early last year, and planted a whole can of 'fragrant' flowers. I got a ton of weeds, and about six flowers.
I sighed.
I amended, and replanted this year with peonies. (from seeds.)
I got more weeds.
I sighed again.
So a friend was moving a few weeks ago, and I was offered a bunch of mums. I took them, cleaned out the bed again, and planted.
This is what it looks like today: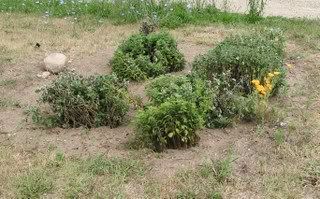 I've got clumps of mums, with plenty of space. I just have to figure out what else to plant there. I'd like color from spring to fall if at all possible.
Oh, and that yellow flower in the front? It's from the 'fragrant' collection. I haven't had the heart to dig it up.
I do really like it, but now it has no place there. Though it seems like nothing may have a place there.
This bed is by the road, next to my driveway, so it would be the first thing someone pulling into my drive would see. For the past two years, it's been more an eyesore than anything else.
And just like 90% of my yard, it's full sun. And I don't like annuals. Self sowing redeems themselves, but I don't see the point of buying something that would only last one year.
Don't get me started on the bouganvaliea or whatever we bought with NO instructions that did wonderfully through the year, and couldn't figure out why it never came back this spring. 40.00 on one plant, to last one season. Not happy.
Which reminds me, I need to replant my orchid, I lost the stem on it a year ago, and it's got great leaves, just no new growth. Time to replant.