I've melons! (Yes, well, those too.) Side by side even, makes them so much easier to keep an eye on. I might have more, poking through all the vines sometimes while keeping a wary eye for the bees can be well, interesting.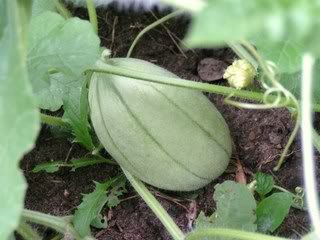 Musk melon. Looking nice and pretty for my camera.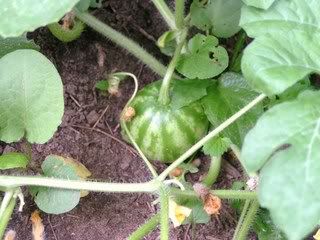 And one very small watermelon, and today, it's nearly twice that size. Amazing!
The vines are everywhere, you have to really watch where you step, and I've had to warn visitors that if they stand in one place for too long, they'll likely walk away with new growth.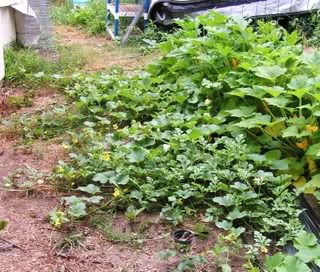 Here's a nice side shot of the vines. They're also wandering about the underside of the squash, and a few are peeking about the tomatoes as well. Ah, well, as long as they're happy and healthy, and they don't take off with one of the children or the neighbors' animals, we'll be allright.